Download and install ImageGrabberII application.
Open Imagegrabber II.
Click FILE/OPEN FILE.
Select desired video file; Click OPEN.
Click red stop button; Click small screen icon.
See pop-up "Number of Frames to Extract:".
For videos under 10 minutes, I usually insert "24".
For videos over over 10 minutes, I usually insert "36" or "48".
Click OK.
ImagegrabberII will autocap the video.
Click FILE/SAVE FILE...
SAVE window will open.
Note my settings. Click "SAVE"
Once you have the screen cap saved as a .jpg, produce a clickable thumbnail by uploading image to:
www.imagenvenue.com
,
www.imagebam.com
or
http://www.pimpandhost.com
.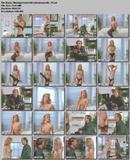 Hotlink image produced using my settings: