For all the new members and the other members that still upload their pics manually, here's the solution to your problem:
I have found one program that works really well in uploading pictures, IIIUploader. I will show everyone how to use this program effectively in this tutorial.
Step 1
Download the IIIUploader using this link:
Dead Link Removed
Unrar the file using winrar. If you don't have it, you can download it here:
http://www.rarlab.com/rar/wrar371.exe
. After it has been unrared, open the file.
Step 2
Open the application and choose which image host you want to use.
Step 3
Either open the folder containing your pics, or drag the folder over to the program. If opening the folder, select all of the pictures that you want uploaded and drag them over to the application.
Step 4
A prompt will appear asking you to name the set and if they are work safe (if using imagevenue). Name the set whatever your heart desires and click ok.
Step 5
Click Upload Files.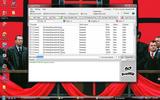 Step 6
Await the upload.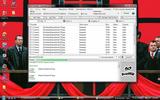 Step 7
When done, a window will pop up with the links to your images. Click "Copy All Links to Clipboard"
and paste in the desired thread. (Make sure you search and post in the right thread!)
Make sure to delete the advertisement at the end.
Click "Submit" and you're done.